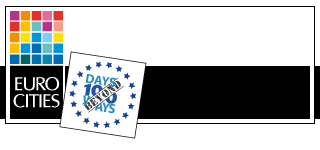 100 DAYS, 100 WAYS
EU do it better with cities
'100 days, 100 ways' is a campaign from EUROCITIES.
'100 days' is about the new European Commission and its first priorities.
​
We believe that the future of Europe depends on its cities. To make the EU fit for purpose, we must strengthen the urban dimension in European policies. Therefore, we call on the new European Commission to take clear action in its first 100 days.
​
'100 ways' is about good examples of how cities tackle today's challenges.
​
Cities are focal points of most topics on Europe's agenda, be it climate change, digitalisation or an economy that works for people. There are many creative solutions cities have developed on the local level that European leaders can learn from. We will portray best cases in our campaign: one story per day.
​
EUROCITIES is the leading network of more than 140 major European cities, working together to improve the quality of urban life. We strive for a Europe where cities are genuine partners with the EU to create a better future. We put citizens at the heart of developments towards inclusive, prosperous, healthy and vibrant cities with future-fit governments, working locally and addressing global challenges.
​
​