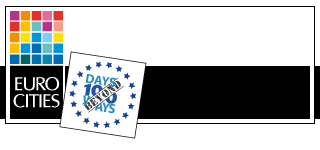 "We will remain a European city"
After Brexit, Birmingham works hard to stay connected.
While the UK has left the European Union on 31 January, Lloyd Broad certainly has not. Birmingham's Head of European and International Affairs is as engaged as ever in the exchange with his colleagues from other cities to share ideas and best practices. Reason enough to talk about life before and after Brexit in Britain's second largest city.
Lloyd, post-Brexit commentators say that Britain is now 'retrenched on its island' - but it seems you're still looking across the Channel a lot.
Absolutely! Birmingham has always been an outward looking and learning city and will continue to be one. To give you an example: we just launched our new Transport Plan which has set ambitious targets for being carbon zero by 2030 and includes initiatives such as the introduction of clean air zones. This plan has largely been inspired by the city of Ghent in Belgium. For us, it's all about listening and keeping our eyes open, and taking inspiration and best practice from wherever we find it. To be clear, Birmingham is still a European city, open and welcoming to all Europeans. That includes its citizens and all the smart ideas we are able to share between us.
You have coined the term 'SynchroniCity'. Is that about being internationally connected?
This is not an official marketing term for our city, but simply the way in which I would describe our ambition in Birmingham. It is about the journey rather than the destination. No city can address the challenges it faces alone. As a municipality, we need to be in sync with our citizens, with businesses, with schools and universities – as well as with other cities and the international context. This is not just about digital and physical infrastructure, but also about developing a culture, a spirit and a shared vision for your city. The more synchronised a city is, the more successful it will be.
Was it this approach that helped Birmingham to re-invent itself after the economic crisis of the 1980's?
Birmingham has a history of continued transformation. In 1873, Joseph Chamberlain became Mayor of Birmingham and is widely regarded to be one of the most revolutionary mayors effectively creating modern local government. One hundred years ago, Birmingham was 'the city of a thousand trades' and 'workshop of the world'. 50 years ago, we were the motor city and manufacturing capital of the UK, with half of our working population in manufacturing. During the recession of the 80s, we lost 200,000 jobs almost overnight. The city's response was to embark on a visionary strategy to diversify the economy. Today, Birmingham has the largest financial services sector outside of London in the UK and booming growth sectors such as Life Sciences and Creative Industries. But we also haven't lost our manufacturing and engineering heritage and many new jobs have been created in high value and advanced manufacturing and engineering using innovative techniques. For this transition, the city needed to partner up with enterprises, academia and many other stakeholders across the city, reinforcing my point about the need for 'synchronicity'.
Birmingham also changed its face and invested heavily in infrastructure – a convention centre, a new railway station, a spectacular library building - mainly in the city centre. Did other communities get left behind?
The city centre has completely transformed over the last 30 years and became the hub for Birmingham's change. But we do still have areas with high unemployment and deprivation. Now the challenge is to develop inclusive growth and ensure Birmingham's people and communities can benefit from this transformation: for example using major projects to create opportunities for poorer neighbourhoods.
How?
We currently have a new hospital under construction in one of Birmingham's more deprived neighbourhoods and have actively worked to get people from this area into new jobs being created by the hospital, such as doctors and nurses – successfully: we found more than 200 'hidden people' who had transferable qualifications but were disengaged from 'the system'. This project is a partnership of the City Council, with universities, private sector, social enterprises and, most importantly, local third sector community organisations. Our role as the municipality is that of an enabler, a facilitator. In this context it was about us being the bridge between our macro assets – the new hospital – and our micro assets: our people and communities. The concept of SynchroniCity also means empowering others.
The project is part of the Urban Innovative Actions, supported by the European Regional Development Fund. After Brexit, this cash flow will dry up.
This is one of our challenges now. The UK is a very centralised country with most funding powers held by central government. If the Brexit slogan of 'taking back control' is to mean anything to cities and its people, the government needs to embark on a new and ambitious devolution process to pass down powers and funding to the city level and help rebalance the UK economy.
Birmingham has benefited from funding by the European Union since 1984.
This financial support was extremely important. And at the same time, we re-envisioned the city in a European context and understood the power of cooperation of cities across Europe. Birmingham was the first UK city to open up a Brussels office in 1986 and in the same year, together with five other European cities, we co-founded the network EUROCITIES…
… which today has more than 140 members. And Birmingham has a seat on the executive committee.
The statutes of EUROCITIES have been adapted to allow the participation of non-EU cities on the Executive Committee; we are very thankful for that. We know that EUROCITIES is the network of European cities and not just EU cities. We fully understand that we now have to work even harder now to restore trust after Brexit. And 'Team Birmingham' remains committed to that challenge – we will remain a European city.
Lloyd Broad, City Council Birmingham, about the impacts of Brexit (March 2019)
Transforming the city © Danilo d'Agostino, Unsplash
Lloyd Broad, Head of European and International Affairs at Birmingham City Council
Birmingham new library © David Edkins, Unsplash
'City of a thousand trades' © Birmingham Museums Trust, Unsplash