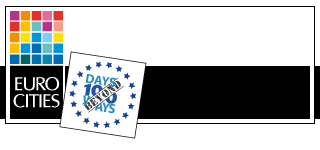 Towards a sustainable urban mobility
Barcelona, Dublin, Helsinki, Tallinn
Imagine yourself, sitting at one of the main roads in your city centre. You're enjoying the clear air and a coffee, listening to the soft voice of a street musician and the whirring wheels of the e-bikes passing by. The driverless minivans hardly make any noise, nor do the small delivery robots, bringing parcels and food to homes. You remember how this place was a few years ago, when 1,000 cars per hour went through. During the hour you were sitting here now, you counted 20 cars.
It's time to go. Your mobility app recommends a shared driverless taxi to the metro station, the underground for six stops and an e-scooter for the last mile. According to the app, you will make it home before the rain. You book and pay with one click, and you're on your way.
Sounds like your city? Or rather like science fiction?
Mobility in cities is changing
In fact, a reality like this may not be that far away. The 'Future of cities' report by the European Commission's Joint Research Centre predicts that "mobility in cities is one of the sectors that will change most in the future as a result of technological innovation and behaviour changes."
And many cities are already working towards a vision as described above. Air pollution, congestion, noise and traffic accidents force them to.
In

Tallinn

, locals don't have to pay for trams and buses. 2013, Tallinn was the first capital in the world to make public transport free for residents. Estonia wants to become the first country with free public transport nationwide. Buses are now free of charge in 11 of its 15 counties, reports the

Economist

and summarises: "expensive, but worth it." A

study

, though, showed that, while more people are using public transport in Tallinn now, car use has not decreased. "The long-term effects still remain to be assessed,"

concluded the study

– with many cities observing the experiment closely.
"Expensive, but worth it"
Barcelona

is promoting the use of electric cars and is already today Europe's city with most electric motorcycles. Charging is free at more than 300 recharging points in the city, plus 150 points for the charging of motorcycles.

Barcelona

offers free parking zones for electric vehicles in the city centre and has established a partnership with industrial players, called 'Live', informing individuals and companies about subsidies and incentives for low-emission vehicles. Barcelona wants 80% of its municipal fleet – police, public services and transport – to be electric by 2024, including 100 buses, 800 taxis, 24,000 cars and 24,000 motorcycles.
Dublin

found out that today's mobility could be delivered with only 2% of the current number of private vehicles. A

study by the International Transport Forum

revealed that shared mobility services and the existing rail system could allow this reduction. Emissions and congestion would be reduced by more than 30%, the computer simulations showed (full study

here

). And shared mobility would improve access to jobs, health services, education and other opportunities for Dubliners living further away from the centre and currently not served well by traditional public transport.


Helsinki

wants to make it unnecessary for residents to own a car. That city is working on a mobility-on-demand system that makes car ownership superfluous by 2025. Already today, more than 40% of trips in the city are made on foot or by bike. Now, shared automated cars, shared bikes, buses and ferries shall be integrated in one smartphone app. And many Finnish car owners are ready to switch: a recent

survey

showed that almost a fifth of them intend to give up their car over the five coming years and shift to more sustainable solutions. According to the

Finnish Transport Ministry

, "the impact would be enormous."
All these cities want to improve the quality of life with cleaner air, less noise, fewer accidents and more accessible public space. But the main driver for their activities is climate change and the need to reduce CO2 emissions to limit global warming.
New EU Commissioner: greening of mobility
As transport is one of the largest sources of carbon emissions, it plays a major role in the new European Green Deal aiming for a climate-neutral EU, that the new president of the European Commission, Ursula von der Leyen, has announced. "This deal cannot be complete without transport at its core," said the designated Commissioner for Transport, Adina-Ioana Vălean, at her hearing before the European Parliament on 14 November.
Vălean committed herself to "the greening of mobility" and stated that a climate neutral economy by 2050 must see CO2 emissions from transport reduced by 90%. "But if we continue with current measures, all we get is just 20%."
In fact, "emissions from transport have continued to grow as passenger and freight transport demand has risen," as a policy paper by EUROCITIES, the network of major European cities, points out. Efficiency improvements and new technologies "have not been enough to offset this growth." The number of passenger cars in the EU, for example, has seen a steady increase to some 250 million – on average one for two EU citizens (with large differences between rich and poor countries).
EU should phase out fossil-fuelled cars
EUROCITIES therefore calls for an EU-wide phase out of the sale and use of fossil-fuelled vehicles. This could be supported by stronger decarbonisation targets for cars, plus road charging and taxation that "reflect the true cost of fossil-fuel transport," suggests EUROCITIES.
Cities that work towards a sustainable modal shift should be supported through "funding, best practice sharing and regulatory frameworks" and research and innovation on urban mobility should be strengthened, EUROCITIES writes in the policy paper.
Flight tickets are too cheap
The document is meant to be an input for a white paper on transport EUROCITIES wants to see from the new EU Commission within its first hundred days. It also covers recommendations on road safety, automated vehicles and other areas of transport, like shipping and aviation.
Flight tickets need higher taxation, reflecting the external costs of aviation, EUROCITIES argues, and aviation fuel should not benefit any longer from tax exemptions. A recent study by the European Commission showed that a tax on jet fuel of €330 per thousand litres would increase ticket prices by 10% on average, thus cutting the number of trips – and emissions – by 11%.
Shipping is a major source of pollution, particularly noticeable in cities. "In major ports," EUROCITIES found, "emissions from shipping is larger than all passenger cars moving in the city." The paper recommends supporting shore-side electricity supply for ships in harbours, "which would result in zero port emissions and a dramatic improvement in public health."
"Cities must be involved as key partners in the future European transport policy"
Cities are also connection points for local, regional and long-distance transport. To make the ever-increasing flow of goods efficient and sustainable, cities need to participate in the development of trans-European transport networks, EUROCITIES says.
Or, as Christian Specht, deputy mayor of Mannheim, Germany, and chair of the EUROCITIES Mobility Forum, puts it: "Cities must be involved as key partners in the planning of the future European transport policy and receive political and financial support for their activities."
In this way, the vision of a sustainable urban mobility, as described above, can become reality.
How will we move in 2050? - Here's the answer of the Financial Times
A vision of urban mobility - cover of French weekly La Tribune
© Future of Cities Report, JRC 2019
New EU Commissioner for Transport, Adina-Ioana Vălean