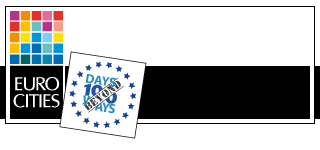 Ambitious reduction targets as a democratic process: Leeds forges ahead in fighting the climate crisis.
85 % – this impressive figure has been set by the city of Leeds as a reduction target for greenhouse gases by 2030. It is defined in the cities' climate pledge, which was presented on 10 December 2019 as part of the "City Leadership for Climate" at the European Parliament in Brussels. This event aimed to provide visibility and recognition to cities' ambitions to tackle the challenge of climate change. Not only with words, but also with climate protection targets in precise figures.
Making local voices heard
The fact that Leeds is serious about its targets – 85 % cuts in GHG emissions by 2030, zero emissions by 2050 – becomes clear when you look at the city's whole commitment to the climate crisis. On 27 March 2019, Leeds City Council declared a Climate Emergency, pointing out that "it is important for the residents of Leeds and the UK that cities commit to carbon neutrality as quickly as possible."
The question of how this can and should be realised is wide-ranging. Major changes will be necessary in any case, affecting local residents in their everyday lives. So what is the best way to ensure that the needs and opinions of all interest groups are taken into account? The answer is simple – ask them. And that's exactly what the Leeds Climate Commission did: In the summer of 2019 the first Leeds Climate Change Citizens' Jury was initiated to answer the question "What should Leeds do about the emergency of climate change?"
"To secure permission for transformative change, we've long needed to hear more from all sections of the city, especially those that may be sceptical about climate change and those whose voices have not been heard clearly enough in the debate on climate change so far", Andy Gouldson, Chairperson of the Leeds Climate Commission, explains.
"The Leeds Climate Change Citizens' Jury was set up to enable those voices to be heard."
A mini version of Leeds
It all started with a large-scale selection process in August 2019; four thousand households across the Leeds city region received a recruitment letter explaining about the Citizens' Jury and inviting those who are interested to either complete a very simple online form or use a free-phone number to register their interest. 123 people applied to join the jury, 25 were finally selected. The jury members reflected the diversity of the population by age, gender, ethnicity, area, ability and also attitudes to climate change – and therefore can be seen as a mini version of Leeds.
Between September and November 2019, the group met for nearly thirty hours of deliberation over the course of eight weeks. During the sessions, the participants listened to each other, shared opinions, experiences and ideas. In addition, they received presentations from twenty-two so called commentators – similar to expert witnesses in a legal jury – and had the opportunity to question and "cross-examine" them.
The whole process was led by a team of independent enablers with extensive experience in Citizens' Jury facilitation from the social enterprise Shared Future – a Community Interest Company.
Results and recommendations
After three months of intense discussions and exchange of knowledge, the jury agreed on a set of recommendations on how Leeds can best reach zero emissions:
​
We recommend that extensive positive action is taken to make the use of private cars a last resort for transportation. As a priority, bus provision should be taken back within public control.


All existing housing must be made energy efficient – housing must be retrofitted.


Leeds act together: there needs to be a large-scale communication drive in Leeds delivered through social media, face-to-face events, community groups, company advertising, screens in the city and other methods. Education in schools is central to this.


Funding/finance. We recommend exploring a variety of funding sources so that: we are not over reliant on any single one, we can access finance readily and cheaply, and each source has a positive effect on people's behaviour.


We recommend that there should be more locally devolved power to ensure and enable action on climate change.


Create more green spaces in Leeds (parks, trees, community gardens etc.) and reclaim abandoned spaces.


All new housing must be as future proofed as possible i.e. A or B energy rating, and include: a) green spaces, b) shared facilities and communal areas, c) new technology e.g. smart homes.


Call for a 'Leeds Green New Deal'. A Green New Deal is a set of social and economic policies to stimulate the development of low carbon solutions, creating new jobs, boosting the economy and improving people's lives.


We recommend stopping Leeds Bradford airport expansion – it is not compatible with zero carbon targets.


Ask companies and organisations in Leeds to pledge to become carbon neutral by 2030.


We recommend that more extensive recycling opportunities are made available and accessible to all (e.g. disabled people and nondrivers).


We recommend that no one in Leeds accepts single-use plastic and no businesses in Leeds offers it. We recommend that all food and drink outlets in Leeds provide refundable deposit cups in place of disposables.
"I now look forward to these recommendations being considered by the Council and our public, private and third sector partners in the city. They will help to shape our local action plan to tackle the climate emergency", says Councellor Lisa Mulherin, Executive Board Member for Climate Change, Transport and Sustainable Development in the Leeds City Council.
Contribution to public acceptance and trust
"Some of the recommendations are undoubtedly challenging – but responding to climate change is a massive challenge, and our response has to be actively guided by the people of the city", her colleague Andy Gouldson adds and points out that apart from the list of recommendations agreed on in a communicative process, the entire project is an outstanding example of active democracy.
"It is the citizens' right to participate in decisions that affect their lives."
"Designing processes that allow this to happen can increase trust in public policy decisions, leading to greater public acceptance and resulting in better quality decisions that have articulated a diversity of opinions, values and needs."
Find out more about the Leeds Climate Change Citizens' Jury.
Why is it important to have things like the Leeds climate change citizens jury?
25 randomly selected residents from across the Leeds city region
The jury members spent nearly 30 hours deliberating on climate change