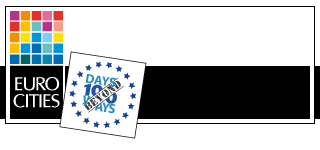 A new chapter in a powerful history
Young spectators are streaming out of the Theatre Junge Generation (tjg) with shining eyes and still enthusiastic, while a more adult audience in evening dress and with a glass of champagne in their hands is looking forward to a special performance in the Staatsoperette. On their way home after the curtain has fallen, they are very likely to meet cheerful night owls heading for the trendy club Kraftwerk Mitte.
"Kraftwerk Mitte is a new open space for culture and dialogue"
​
A meeting of generations and diverse cultural interests – united in one place and exemplary for the different paths that cross at Kraftwerk Mitte. "This is where people meet who would otherwise never have met", says Annekatrin Klepsch, Deputy Mayor and Mayor for Culture and Tourism of the City of Dresden.
​
New spirit in old buildings
​
With the opening of Kraftwerk Mitte as an arts centre in December 2016, Dresden has opened up a new chapter in the long history of a power plant location rich in tradition. The site has been home to various energy generation plants since 1838. Over the centuries, an array of buildings with a wide range of architectural styles has been created – just one of many factors that give the site its special charm. Today, the unique shells of the former machine hall, transformer house or coal shed shine in fresh splendour, enclosing a creative interior.
Cultural hotspot in best location
The era of energy production ended in 1994, in the following years the unused heat and power plant decayed more and more. Various concepts to revive the area were discussed and dropped again. The fact that this is the hotspot of Dresden's cultural scene today is mainly due to the renowned theatres Staatsoperette and Theater Junge Generation.
"After the Second World War, both theatres were founded in venues on the outskirts of the city that did not meet their high standards neither in terms of location nor condition", explains Annekatrin Klepsch. "There was an urgent need for action here to bring the theatres closer to the centre again and to upgrade their buildings. Kraftwerk Mitte is rebuilt as a new open space for culture and dialogue and a noncommercial place".
Apart from the theatres and the music club, the University of Music and Performing Arts, Dresden's energy museum, restaurants and cafés have already moved in. And Kraftwerk Mitte is still right in the middle of a lively change process: from 2020, the site will be enriched by a media culture centre, a repertory cinema and an intercultural centre with educational services.
"In addition, the large theatre puppet collection of the Saxon art collection can finally be made accessible to the public", Annekatrin Klepsch is pleased to report. The city hopes that the museums as well as further tenants and their staff will soon contribute to a similarly lively atmosphere during the day as in the evening.
On time, within budget and with a remarkable initiative by the staff
Kraftwerk Mitte was completed on time and within budget – quite remarkable for an extensive and expensive municipal building project, which has to meet high requirements for the protection of historical monuments. During visits, Annekatrin Klepsch always notices that this is an interesting aspect for delegates from other cities. But the development process for Kraftwerk Mitte has also set standards for Dresden itself and will serve as a model for the planned construction of a new town hall.
"A new culture of togetherness for our future"
​
Also noteworthy: the Staatsoperette's ensemble co-financed the project by partially waiving their salary. In a unique initiative, the staff agreed to a salary cut of ten percent for over a decade – a direct investment in their new workplace and a strong signal of identification with one of the city's most important cultural institutions.
Contribution to urban development
However, the change does not only affect Kraftwerk Mitte itself. The entire district has undergone enormous enhancement since the opening. Although the area is very close to the centre, it seemed a little neglected with its many wastelands. Kraftwerk Mitte has attracted numerous investments – both publicly and privately financed: apartments, a large hotel and a swimming pool were built in the area; a new school will follow by 2023.
All this makes Kraftwerk Mitte – by the way one of the finalists at this year's EUROCITIES award in the category "cooperation in physical transformation"– an excellent example of best practice in Dresden's bid for the European Capital of Culture 2025 according to its claim "Neue Heimat".
Not only did two renowned theaters, other cultural institutions as well as the creative industries find a new home here. Kraftwerk Mitte is an inspiring meeting place for people from everywhere and therefore represents essential goals of the candidacy, as Dr. David Klein, Director of The Bid Office Dresden 2025 points out: "Art and culture stand for difference in a most positive way, stimulate dialogue in an increasingly diverse urban society. This is an important factor to shaping the way we live together in the city, facing current social challenges and developing a new culture of togetherness for our future."
Art is all around
But even without an official title, Dresden is an outstanding cultural metropolis and has once again underlined this status with Kraftwerk Mitte. Art is all around here: from great performances on stage to "art to go" for 4 euros per piece, supplied by a vending machine – a former cigarette dispenser.
Dresden's video was among the finalists of the EUROCITIES awards 2019
Vibrant atmosphere: Club Kraftwerk Mitte © First Class Concept
The power plant site in the 1930s © DREWAG Archiv