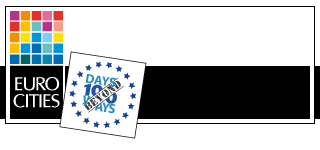 Innovation from a shipping container
Education, innovation and prototyping 
After phasing out much of its industrial activity, Ljubljana wanted to give new meaning to one of its most iconic buildings, the Rog factory, while preserving the city's industrial tradition. The redesign, RogLab, is a 30m² shipping container between the Ljubljanica river and the Rog factory, intended as a creative hub for education, innovation and production. 
The RogLab operates with a fresh organisational model bringing together different sectors and stakeholders in a jointly used manufacturing space to share knowledge and ideas and create novel products. It is trialling a non-hierarchical style of management to encourage an informal, welcoming and open environment.
Meta Štular, head of RogLab, says that research suggested "that we shouldn't simply turn the old Rog factory into artistic residences as planned but create a new organisational model promoting interdisciplinary working and the sharing of knowledge and resources where the challenges of contemporary society could be better tackled."
RogLab's focus is on those addressing urban architectural and design challenges with an emphasis on social and environmental responsibility. Projects include a prototype for a foldaway quarterpipe that can bring skateparks to rural settings, while offering flood protection and an ingenious raincoat that can be easily put on and taken off by wheelchair users.