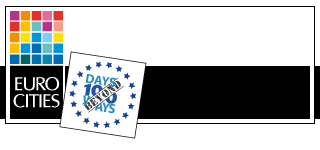 Repair and reuse: the motto of Munich's municipal second-hand store Halle 2
An electric Fender guitar for €60. A cricket kit for €30. And a Star Wars Snow Speeder for €10. – You can make a bargain at Halle 2, Munich's second-hand store with goods from the garbage.
"Giving things a second life," Sabine Schulz-Hammerl, manager of the Munich Waste Management Cooperation, calls this business model. On a sales floor of nearly 800 square metres, customers can browse for almost everything, from books to bicycles, from forks to furniture.
The products on the shelves have been collected from the twelve recycling centres in Munich and, if necessary, repaired. 1,000 tonnes of garbage are avoided every year, by reusing the hidden treasures which thus often experience to be loved at second sight.
Read more about the reuse lab and shop Halle 2 here – and watch the video.
Something for everybody at Halle 2 © AWM
Christmas auction: Sabine Schulz-Hammerl, manager of the Munich Waste Management Cooperation © AWM
800 square metres for hidden treasures © AWM
A bargain for €10: the Star Wars Snow Speeder © AWM