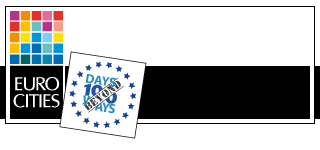 How do you inspire creative entrepreneurship and revitalise empty buildings? Launch a competition offering free premises in return for good ideas. Job done!
Interior designer Laura Dähn is busy putting the finishing touches to her new premises in, rather appropriately, a former spinning machine factory. "It's a big, wonderful space," she enthuses. "It will be both a showroom with a workspace and sofas where I can talk through ideas with customers and also a sales area for some nice decorative accessories."

Dähn's dream to run her own business has become reality just a year after she arrived in Chemnitz and entered a new competition launched by the city offering free space, funds and support to creative entrepreneurs.

"I was really happy to be one of the winners," Dähn continues. "I had started my business a few months before but winning the studio space rent-free for three years and €5,000 to furnish it and buy stock has given me a great opportunity to grow much faster and have a security net."

Called KRACH - Kreativraum Chemnitz (Noise - Creative Space Chemnitz), reflecting that where there is noise there is energy, activity and creativity, the competition was designed to help Chemnitz realise its potential as a creative city.
The missing piece of the puzzle

It's not surprising that the city has creativity-based economic growth in its sights. After all, the cultural and creative industries are the sector demonstrating the best growth rate and most effective creation of jobs in the European Union.

Currently generating around €509 billion a year - 5.3% of the EU's total GDP - the sector employs 12 million people in full-time jobs. There is also growing awareness that while the world might seem wedded to a digital future, the fact that creative work is difficult to automate makes singling it out for special attention a wise move.

The spotlight shines most brightly on cities when it comes to where the creative economy is most likely to thrive. By providing a concentration and diversification of talent, cities have what it takes to enable creative activity, innovation and networks to flourish.

There's one more vital piece of the creative industry puzzle. And Chemnitz has it in spades.
Urban regeneration in another guise

The city's economic downfall after the reunification of Germany in 1990 led to its population and economic growth plummeting - and its architecturally imposing commercial buildings being abandoned. These unused spaces are the key to KRACH.

In fact, it is described in these terms by Frank Schönfeld of the city's economic development corporation, CWE, which leads KRACH with the city. He says KRACH is "an urban development project that creates and revitalises spaces with a focus on the cultural and creative industries. The aim is to promote a committed creative scene and to bind it to Chemnitz in the long term, to establish the trades and to create a meaningful network of creative people."
"My friends in Berlin think it's crazy that I have a free showroom"

Being able to provide these empty spaces to local creatives certainly seems to be a very effective way not only of unleashing their talent but also of earning their loyalty.

According to Andre Zimpel, a KRACH winner with a streetwear fashion business, "My friends in Berlin think it's crazy that I have a free showroom, workroom and storage while they're paying thousands of Euros in rent every month just for an office. In my opinion, Chemnitz has a huge advantage compared to other cities because it is so rich in terms of space."

It was the city's realisation of this richness, during a study visit to Bologna as part of EUROCITIES' Culture for Cities and Regions programme, that inspired it to adopt the Italian city's model for boosting creative activities.
Make some noise!

Promoting itself to 'all those who are daring and determined, who don't need a feathered nest to put their ideas into practice and who wish to contribute to a louder, more cosmopolitan and more pioneering Chemnitz', KRACH opened for business. Its call clearly hit the mark with its target audience.

Applications flowed in, from makers, students, graphic designers, software developers, theatre producers, scientists, marketers and more. And their ideas were every bit as varied and innovative as you might expect.

They range from a subscription service for art prints to help young artists in the early stages of their career to virtual reality products. From industrial-style lamps made from discarded concrete and copper to a writing, printing and book art workshop. And from a coffee shop hub where creatives can find support and inspiration to a digital version of sheet music that can be edited on tablets and smartphones.

The winners - there have been 17 over the first two years - are decided by an international jury which identifies the most innovative proposals and evaluates them on the basis of feasibility, skills, professionalism, sustainability, social interest and connection to the city. The owners of the free spaces - the municipality and private landlords - also have a say in the selection of their future tenants.
Boosting confidence and ambitions

This is where things can get really exciting for the city. Take the factory where Dähn is about to open her interior design showroom. One of the city's largest industrial sites, it hadn't been developed by its private owner but is now, thanks to KRACH, working with the municipality and the new tenants to transform it into a vibrant space full of creative activity and interaction.
​
"Winners are really supported and everyone who applies, even if you don't win, can still get advice"

Dähn's collaboration plans bring home the value of creating mini creative clusters like this. "There is a 3D artist in the room next to mine who makes really great renderings and we want to do a project together because our areas of work fit together very well."

Collaborations like this aren't the only additional advantage of being a KRACH winner. As they set out on their creative journey, winners can get help from experts with things like marketing and finance via Kreatives Chemnitz (Creative Chemnitz), a local non-profit lobby group and a key project partner.

"Winners are really supported and everyone who applies, even if you don't win, can still get advice," says Zimpel, who is now selling his streetwear online globally - and developing an ambitious 10-year plan. His goal is to launch a web design and social media business too. "Creating a brand and a certain level of awareness for myself will make it much easier to found an agency," he says.

Like Zimpel, Pascal Anselmi has big ambitions. In his case it's to enliven the arts and culture scene in Chemnitz by setting up a performing arts centre where local and international performers can rehearse and perform. He also credits KRACH with giving his plans a significant boost.

"I knew you could try out an idea yourself but KRACH took things to a different level because people were taking you seriously and the project had more visibility within the municipality and beyond Chemnitz." Anselmi has felt empowered to take his role in the sector even more seriously too - he's now helping to set up an organisation to promote and secure funding for the performing arts in the city.

Activating dynamic young people like Dähn, Zimpel and Anselmi is starting to make the difference the city was hoping for. "KRACH makes the cultural and creative industries visible and creates responsiveness," says Schönfeld. "This is its greatest success."
Setting the bar even higher

With this success under their belts, the city and its KRACH partners have set their sights higher too. There is to be a new regular meeting with creatives so that their work, issues and problems can inform ideas for the sector's development. There are also plans for a new academy for training in the cultural and creative industries.

These are just two of the actions in the city's cultural strategy 2018-2030, which aims to involve more creative industry stakeholders in future planning and cement Chemnitz as the major regional centre for culture.

One final action that could put Chemnitz firmly and forever on the map for its cultural and creative power is its bid to become European Capital of Culture 2025.

Although, of course, to the first two cohorts of grateful KRACH winners, Chemnitz is already their capital of culture.
KRACH: from city spaces to winning prizes
Laura Dähn: a great opportunity to grow faster credit: Mark Frost
Andre Zimpel: growing a global streetwear label credit: Mark Frost