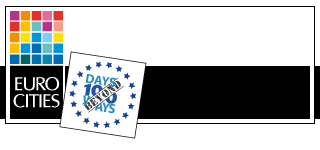 This seaside town has vaulted forward, using technology to give a new face to tradition.
Walking down Bogoridi Street in Burgas feels like stepping into the past – the low-rise buildings give a careful nod to the rococo style of an earlier age, and in this newly refurbished pedestrian area there is not a single car to contend with. But all is not as it seems.
Hidden technology
You might not suspect that this wide, sand-hued street is one of the most high-tech public spaces in Europe. The old-style streetlamps bearing up round tabletops surreptitiously sport ports for charging computers, mobiles, cameras, electric bikes and wheelchairs. They also emit the free wifi that covers the area.
"A more liveable, social space"
"We wanted to create a more liveable, social space for locals and visitors," explains Jana Koleva, chief expert in European policies and programmes for Burgas. "These lampposts draw people in, they always have a lot of people around the tables, and during the summer they are always full."
Digital oasis
In the summer, it was often difficult to enjoy the sights and sounds of Bogoridi street. "It's very sunny in the summer, it can be close to 45 degrees on the street, so you can imagine trying to walk around in that heat." To make matters worse, the position of the houses makes it impossible to have trees on the street, so there were no leafy havens to provide shady respite or cool the air with their slow trickle of transpiration.
"We decided to use the lampposts to create ten green areas. We put flowers on the lampposts and chairs under them," Koleva says. The low-energy lampposts that serve as the centre pieces of these green areas monitor air and noise pollution, temperature, humidity, atmospheric pressure, and even wind. This real-time information goes to an automatic humidity control misting system along the whole street that keeps pedestrians cool, and even activates a smart watering system for the hanging baskets, so that the flowers are never thirsty.
"Spaces for serendipitous meetings"
Because of the comfort and conveniences that they offer, these lampposts have become social oases dotted along the street. Koleva says that the city "wanted to make it more social and more interactive, to create spaces for serendipitous meetings where different kinds of people could have real encounters in the public space."
Bright ideas
The idea for smart lampposts came from Burgas' participation in the EU-funded Sharing Cities project, but the proliferation of options, and the idea of making this infrastructure into a green social space, as well as the flowers and humidifiers were a local innovation all of the city's own.
However, cities do not act without citizens, and indeed the municipality of Burgas must, by law, present any new project or investment to stakeholders for feedback. The city ran several such sessions, and it was through consultation with residents that some of the features of these lampposts came into being.
"People were worried"
For example, the main energy savings, which the municipality expects to be about 40% - paying for all the extra gadgets and leaving a surplus – come from switching from the old halogen system to LED lights. "But people were worried that because the lights are new, they will be much more bright," Koleva says.
This might be good for a feeling of safety, "but it's not great to have that level high level of light at night when you're trying to get to sleep, and there are a lot of people living in that area. Together with residents, we came up with a dimming system. The light level is naturally low, but the lampposts detect if there is someone passing by and increase the intensity of the light so that person can feel safe, but the residents can still look forward to a good night's sleep." Another plus of this dimming system is that the lampposts save even more energy, lowering costs as well as the carbon footprint.
No waste
This philosophy of avoiding waste even applies to literal waste. The new Bogoridi street does not use the standard system of collecting waste from the street's public bins on a fixed schedule, a system which means wasted energy collecting bins that are not yet full, or, even worse from street users' point of view, overflowing bins that are not tended to.
Below the earthy tile ground-mural on which the city and its ancient architecture are mapped out, underground containers store waste discreetly. As part of the pilot project launched at the beginning of 2018, sensors within these containers let the city know when it's time to empty them, so the waste collectors don't ever come too early, or too late.
Path to culture
Another type of waste that the city was concerned with was having resources that were underexploited. "In the small streets around the main street you have numerous art galleries and museums and also cultural spaces," but, according to Koleva, people being funneled down the main viaduct were not always aware of these spaces.
The new paving of the main street also went down on these side streets, creating a subtle but effective aesthetic cue that draws people to explore more. The less subtle but perhaps more effective technique of signposting nearby cultural spaces has also been employed. As a result, these nearby spaces are seeing a lot more footfall than before.
"It's a symbolic place"
Bogoridi is a hotspot for tourists, but it is also a symbolic place for locals, "it's a street that goes from the main municipal building to the city garden. It's the main boulevard. It's a symbolic place in the city, and that's the reason we decided to renovate it, because it's such an important place for the citizens." Koleva explains. The renovation of that street and its surroundings is emblematic of the reinvigoration of a city of that is heading full tilt into the future.
Virtual reality
In fact, though it's no substitute for the real thing, you can take a trip to Burgas right now, from your desk, as the city also exists in virtual reality. VR Burgas is a project conceived by the city together with Boulevart, a local artists' collective, cultural enterprise incubator and event hub set up by Burgas municipality. These young designers, programmers, animators and photographers worked with the city to create an interactive tour of their seaside town – an idea meant to boost the local cultural sector and the tourism industry at the same time.
You can go straight there at www.vrburgas.com and stroll around through your computer screen, or get the full immersive experience through a 3D virtual reality headset, so plug in and enjoy the street of the future!
Street perfomer on the boulevard