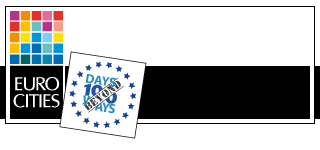 An interview with Radek Kronovet, the head of Brno's air protection department.
Radek Kronovet the head of Brno's air protection department, working on the day-to-day and long-term plans the city has for hitting the EU's air quality target. From careful monitoring, to low-emission vehicles, to planting more trees and bushes, Kronovet is the man in the hot-seat.
Radek, where are you getting your inspiration from – who are you working with?
​
Air quality needs to be a collective effort – we in the city work across government levels, collaborating with the regional authority and the ministry of the environment; pollution doesn't respect city borders, so we also have to look beyond them.
We're also taking inspiration from other cities, like London and Vienna, through visits and our work in the EUROCITIES network. At local level, we also collaborate with the university, schools and other local organisations, whether it's to develop knowledge around air quality, or to collaborate on action.
What are the threats to air quality in Brno?
In Brno, we can keep track of the sources of pollution, because we run five air-quality measuring stations, as well as one mobile station. Keeping an eye on those gives us a good picture of what the air quality is like and where pollution is coming from. So one of the big culprits is transport. Interestingly, we think of transport-related air pollution as mainly something that comes from exhaust fumes, traffic actually creates a lot of other air-quality issues; you can't just measure the CO2 alone.
​
A lot of pollutants come out of a vehicle from the break pads every time it slows down, and matter from the tyres as they wear against the road is also pretty bad for our lungs, as you can imagine. This kind of matter is what you would want to be worried about if you're spending a lot of time in close proximity to traffic. We can see with our sensors that levels dip pretty significantly once you get further from busy roads. Beyond local traffic, there are a lot of trucks bringing cargo through the city, which doesn't help.
Thinking not just about CO2 but also about dust particles, construction is another big offender. We're making sure that public tenders require more energy efficient construction machinery. Basic things like cleaning the road regularly can also make a big difference to the level of dust in the air.
Now, another thing, which is not strictly a threat in itself, but which has a really significant impact on air quality is the weather. When the north-eastern winds are high, we actually get a pretty sizeable bump in our air pollution due to pollutants which you can track from areas of Poland where coal burning is still pretty high. As I said, air pollution doesn't respect our borders.
How are your efforts turning out? Have you managed to reduce air pollution?
Well, we put our action plan in place in 2017, and we're updating it every year. Since then things have been improving, but slowly. The pollution limits are still exceeded in areas where there is a lot of traffic. That's why we're putting a lot of emphasis on public transport as a potential solution. For example, we're running an incentive programme where we give people money towards buying an annual ticket.
​
We have lots more ambitions though. In Vienna I saw things like low-emission zones and large pedestrian zones which I think we should be talking about in Brno. We also really need a ring-road so that traffic that doesn't need to be in the city isn't clogging up our streets.
Could you please give me a couple more examples of what you're doing?
We're also putting in more cycling lanes, safe cycle paths and footpaths, supporting the development of electromobility, and reducing the energy performance of our buildings. In the suburbs, things have been quite successful.
​
We're trying to bring that success into the centre of the city, by convincing people to leave their cars behind, and by building up green areas. That means more trees and more and thicker bushes. It comes right down to the blades of grass – we have a policy that they should now be kept at least four centimetres long. So you can see there is attention to detail!
We are also working to keep public awareness high. So, for example, we have screens in certain parts of the city that display the air quality level so that citizens are aware of this issue and can think about practical things they can do. I also personally give public talks and Q&A sessions to make sure people are informed and aware.
What kinds of things are you advising people to do?
I ask people, where possible, to travel to work or school on public transport and not by private car; to heat their houses with emission-free or low-emission heat sources instead of coal or wood. And of course there are things like composting, and planting trees, bushes and even flowers on their properties. Every little helps.
Air quality needs to improve across the EU
Radek Kronovet head of Brno's air protection department
Streets away from traffic have significantly better air quality
Promoting the tram is an important step
Air quality is not just about CO2