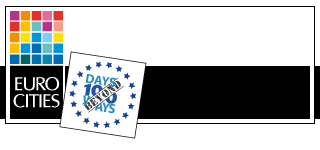 Young Dragons co-create the city beat
How do you make sure that your city has spaces and programmes that work for young people? Ask young people to help!
With the transformation of an unusable city bus into a mobile youth centre, Ljubljana has created a mobile unit with programmes and space for supporting youth. Today we hear from Kaja Vuk of Ljubljana's 'Young Dragons' to tell us their story.
This transformation is part of a wider strategy from the city to engage in co-creation with young people to address a lack of youth programmes and spaces across 18 deprived neighbourhoods. The Young Dragons are a public institution run by the city, and have invited young people to work with them as part of a mentoring programme to create a truly inclusive society. This action of transforming a city bus is going ahead in collaboration with the public transport company Ljubljana Passenger Transport.
​
So Ksenja, could you bring us through the co-creation process from the eyes of a Young Dragon?
​
It all started with a big idea: A mobile youth centre from a bus. The dragons joined forces with Ljubljana Passenger Transport (LPP), which provided us with a bus so we could transform it. Yippee! We started with the conceptual phase last June.
We created an alliance with creative professionals who could work to share and expand their knowledge with fifteen young people who responded to the call.
The question was, what are young people in Ljubljana missing? We examined the Youth Strategy of 2016-2025 and found out what all youth centres in Ljubljana are doing on the website of the Ljubljana Youth Centre Network. We interviewed our target group - young people in Ljubljana. We were thinking aloud about the programme, the vision and the events.
​
Led by mentor Tadeja Bučar (Creative Nomads), the communication team was looking for a position that the project would take at an early stage in the project. What is a bus converted to a mobile youth center? What is its function? What does this space offer, enable, improve? What value does it bring to the youth and the city?
Through research among young people and intense brainstorming of project participants, we have found that the key value the project offers is to enable socializing. What does being together mean to us? Socializing can be with yourself, with friends or meeting new people.
One sentence that originated somewhere along the way in the process encompasses our key message that we want to share and spread: "A place where you can hang out but don't have to buy anything." This reflection with the findings served to form a positional slogan.
We came up with plenty of things on the minds of young people: Lodging, socialising, urban furniture, peace, dating meet-ups, uncensored cafe, book club, talks, roundtables, personal career and education, traveling concerts, friendly space, subsidies, languages, interdisciplinary workshops, movie screenings, excursions, sporting events / tournaments, free coffee and ice cream, more alternative events, a chill place, dog cafe with a park, podcasts, beginner courses and infrastructure for urban sports, networking centre, off-season events, affordable cultural events, and an event advertising platform. Well, that was a good start!
​
"Where there is nothing!"
​
Another question was where we would place our bus. The answer came back: Where there is nothing! What we call a 'grey zone' is an area where there is a lack of social spaces, so we started to explore these grey zones. At the same time, we thought ahead – we want to drive around for five years, but what should come after? Easy – we'll park it up wherever we have found the greatest response and the greatest need - a social space for youth.
​
This bus is a culture thing, it's not just a bus but a wider message. It is up-cycled, it addresses problems and it has a message. It will not be sold to other, less developed countries, but instead solve problems at home. It also represents a long-term goal: No Ljubljana bus should be sold overseas but all present new usable value to the city.
​
"We had to make it a reality!"
​
Then… we had to make it a reality! What will the bus look like? Do we strip the paint to the raw shell? We were guided by the wise words of Andrej Mercina, architect and mentor to young people: "As you make decisions in the process, you build the structure of the project. You have to be critical of your ideas, the team here helps you a lot, it's a healthy humility."
We tried out ideas, had lots of discussions, lots of listening, lots of respect for co-creation. We put all our ideas and references together.
In the next phase we met up with Triiije Arhitekti and Andraž from the Rompom Institute, together with the workers and electricians of Ljubljana Passenger Transport, with Drago Žalec at the helm. They showed us our bus, number 132.
​
"It looked sad, alone, undressed"
​
It looked sad, alone, undressed from the inside, no chairs and stuff like that. But not for long! We delved into the guts of the bus. Žalac, head of processing at Ljubljana Passenger Transport, told us, "let's work and then we can do miracles!"
​
Next came renovation and renewal of electrical wiring, electrical connections, air
conditioning and major and minor repairs. Then a pilgrimage to Tobacna, where it was welcomed with open arms by industrial designer Andraž from the Rompom Institute and project participants.
The participants of the bus programme, 'busers', transformers, co-creators or whatever we call them, learned the theoretical aspect of safety at work for the first half hour, and then changed into protective work clothes and the fun began! Practice working with machines, handling them safely and trying out everything that interests you. Like Alice in Wonderland!
​
"a place to hang out, rest, maybe even fall in love"
​
From the retired LPP bus we co-created a comfortable, thoughtful and minimally equipped mobile youth centre! In fact, there was no longer a bus in front of us, but a place to hang out, rest, maybe even fall in love. A place that breathes and lets you breathe. The wood, which consists of several functional elements - a storage room and a sofa in one - underpins the feeling of warmth, homeliness and goodwill. In combination with the green grass roof, it connects us to nature.
With warm tea and coffee and excellent banana bread, it was interesting to see how connected the team became during the process, how they developed internal relationships and how their ideas resonated.
​
"What now?"
​
The good atmosphere was rounded off by the solemn handing over of certificates of participation to young co-creators, and of course in many cases the bitter question - "What now?" By spring, a team of co-drivers will devote themselves to developing the programme and timetable, Ljuba & Drago will test it out at some pilot locations, and then announce the spring with bells and trumpets! Keep up to date with us on our blog!
Co-creation starts with ideas!
Protective gear on and ready to go!