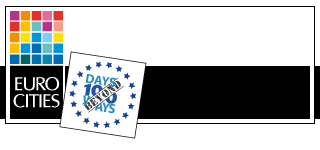 100 DAYS, 100 WAYS
Meet our authors
Ivo Banek has been a journalist in Bremen, a political spokesman in Hamburg and a communications manager in Stockholm. Working for EUROCITIES in Brussels now, he can combine his interest in politics with his passion for cities – and chocolate.
Anthony Colclough is a storyteller whose writing and audio-visual work take up human themes from sport and law, to cultural memory and stolen hearts, to the lives of and lives in cities.
Wilma Dragonetti has mainly been a visual conjurer at EUROCITIES. She has played with words all her life and has grabbed the opportunity of the start of a new decade to move this hobby into her daily work. Chasing compelling stories from cities will be her 2020 new year resolution.
Alex Godson has worked as a journalist in Shanghai, for think tanks and as a representative of business in London and for civil society and as a consultant in Brussels. Now, working for EUROCITIES, he is focussed on media relations and demystifying urban policy discussions held within the 'Brussels bubble'.
Philippa Kreis is a copywriter and editor in Hamburg, working for companies, institutions and advertising agencies. She loves Europe for its diversity of people, languages, cultures – and football teams (but always wants Borussia Dortmund to win).
Tiphanie Mellor worked as a newspaper and magazine journalist in London before setting up a company producing brand publications. Since returning to her writing roots, she has focused on helping EU and UK organisations, global companies and ambitious start-ups tell their stories and share their successes.